Click or Activate the 'Repeat/Continuous Play' button to easily go 'Back' from initial player start-up

Robin Goodrow, along with her brother Micheal Goodrow, write some of the most fun and imaginative children's music around. The songs are upbeat and topics range from universal messages on songs like "Rainbow Of Colors" to the wacky humor of "Chocolate Pudding Queen". The production is first rate and features some major league LA studio session musicians providing the accompaniment. Highly recommended for kids or the "inner child" in us all.
- Michael Diamond, SongPeddler
Amazing! CD
Click image to see full cover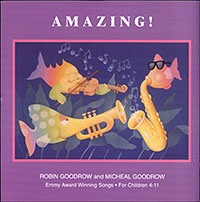 Sorry, but the Amazing! CD is currently out of print and unavailable at this time.
Please check back with us soon for link(s) to purchase songs in digital form.
"My 4th graders love AMAZING! AMAZING! is a must!"
—BARBARA JACOBSON, Teacher's Mentor, Los Angeles Unified School District.
"Thank you for such an amazing tape! My daughter has worn her last one out. She wanted to listen to it while taking a shower and it got a little wet."
—TAMI McGREW, Parent, Nampa Id.